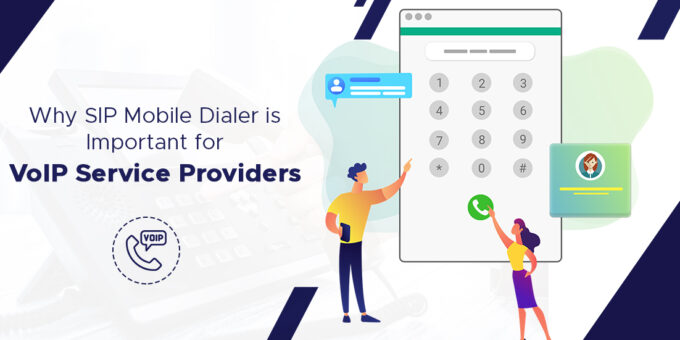 Ever since the introduction of the 4th Generation Internet, the data handling capabilities of modern devices have led to the adoption of VoIP technology. Compared to traditional calling methods, VoIP technology has three significant benefits.
1) Cost-effective
2) Audio and video transmission
3) Better call quality
The shift towards a hybrid and remote work culture has contributed to the faster growth of the VoIP industry in terms of usage, market share, and revenues. Furthermore, with the advancements in technology, Mobile SIP dialer is significantly impacting how global business uses VoIP technology.
Let's learn more about Mobile SIP dialers and why VoIP providers should consider offering Mobile SIP dialer development for their users.
What is a Mobile SIP dialer?
In VoIP, you need a capable device, a PBX server, and a reliable internet connection to make and receive calls. The device is usually a specialized hardware device such as an IP phone; however, a software-based dialer can be created, using coding techniques and dedicated programming languages. Using a mobile SIP dialer, you can receive and make VoIP calls from anywhere, anytime. You eliminate the need for additional hardware, software, or add-ons to initiate VoIP communication. All you need is a mobile dialer, and enjoy VoIP calling anytime.
Why are Mobile VoIP Dialers Important?
Any computer device may be utilised with mobile VoIP dialers. They're quite simple to set up and manage. It saves time by allowing system administrators to deploy and update VoIP software across all computers at once. Because no hardware installation is required, businesses save a lot of money.
With VoIP, voice calls function in a different way. The audio is translated into internet protocol (IP) data packets, which are then sent across the internet from one caller to the other. A softphone is a phone that can be used on a computer, a smartphone, or a tablet.
Modern softphone applications have a user-friendly interface that is generally accessible and easy to browse. As a result, your employees can use their own devices to make calls using simple, familiar dialing and calling procedures.
How do Mobile VoIP Dialers Work?
A mobile SIP dialer is not a stand-alone application; rather, it connects to the SIP provider you've configured. When you make a call, the dialer splits your audio into numerous data packets, which are compressed and sent over the internet to their destination. Packets are decompressed and converted back into a voice file at the receiving end. End-users of VoIP, on the other hand, think they're making regular phone calls. Because data passes across these numerous data packets in the most effective way possible, VoIP transmission is typically quicker.
Voice & Video Calls
Call transfer
Contact book
Account balance
Call logs
Call hold & pick up
Secure Communication
Better Codec Support
Conference Calling
Supports any SIP SoftSWITCH
Displays Call history
Integration with mobile phone book
User-Friendly Graphical Interface
Integration with Mobile Phone Book
Payment Gateway Integration
VoIP Calls using Wi-Fi, 3G, & 4G Network
Multiple SIP Accounts Support
Call Timer
Accessible Call History
Call Statistics
Last Call Redial
Multimedia Sharing
Fast Call Connectivity
Secure Communication
Chat / Instant Messaging
Personal and Group Chat Options
Easy Integration with VoIP billing software
Benefits of Mobile SIP dialer
Lower monthly phone bill – Many aspects of a regular phone bill, such as inbound call or roaming rates, text messaging restrictions, and anytime, weekend, or rollover minutes, are not included in the monthly payment.
Work-from-home setup – Using VoIP capabilities like call blocking and HD voice technology, you may route any work-related calls to your personal cell phone.
Be reachable from anywhere – Employees on the go, such as consultants or sales teams, benefit from mobile VoIP since they can answer calls to their office extension from their mobile phone.
Enhanced functionality – Traditional VoIP capabilities such as group chat, video chat, 4-way calls, hold music, and voicemail to email are all available on mobile VoIP, which means your employees' cell phones can support group chat, video chat, 4-way calls, hold music, and voicemail to email.
Cost-effective – Most businesses save up to 50% on their phone expenses when employees utilise the internet to make calls.
Increases adoption – People are already familiar with cell phones and use them on a daily basis. Adding VoIP services to mobile phones allows employees to utilise a technology they are already acquainted with, which reduces annoyance and improves uptake.
Enhanced security – Many business calls include sensitive or even private information. Encryption is available from some VoIP companies, ensuring that your calls are safe and secure.
Why should VoIP service providers offer Mobile SIP dialer development?
Contributes to a digital transformation
The Public Switched Telephone Network (PSTNoutdated)'s technology compelled telecom companies to invest considerably in physical infrastructure, resulting in reduced margins and profits. Users may make VoIP calls directly from their phones with VoIP mobile dialers. There's no need for clunky hardware or extra gear.
Cost-effective
Because VoIP diallers run on the internet and are compatible with any device, they don't require any physical infrastructure, saving telecommunications firms thousands of dollars. Instead of sounds, data packets are created. These data packets are sent around the world through the internet to call receivers. All types of online information or data sharing rely on this data packet conversion technology.
Highly Portable
Mobile diallers provide significantly more advantages than standard PSTN technology. The establishment and maintenance of physical infrastructure for connection is not required for this new-age technology by governmental organisations or private firms. It only requires a solid and reliable internet connection as well as the user's preferred device (laptop/desktop/mobile/tab).
Easy Upgrades
PSTN expansion and upgrade will necessitate a significant financial investment in new physical infrastructure. Simultaneously, a VoIP mobile dialer upgrade may be accomplished by installing simple software upgrades.
Better features
VoIP mobile dialers provide capabilities like call waiting and forwarding, as well as others, that are included in the VoIP service provider's plan at no additional cost. In the case of PSTN, however, the majority of them are costly add-on options.
Wider Adoption
Major telecommunications firms are quickly adopting VoIP dialer services because they are more flexible and cost-effective. Furthermore, the advancement of internet technologies such as 5G networks has aided the expansion of the VoIP sector.
Positive Brand Image
Well, a strong brand image will eventually assist you in achieving your business objectives. As a VoIP service provider, you must establish a strong brand in the VoIP market. As a result, developing your brand image is the most effective strategy to keep your clients engaged with your services for a longer period of time. With a white-label dialer, you can give your brand additional weight and reach.
Scope of Business Generation
A branded dialer may help your company expand in a variety of ways. To begin, your VoIP dialer may help you bring in more revenue. Once your brand is famous and known in the market, you get the scope of higher business generation.
Customization Option
Customization possibilities are frequently included with a branded mobile dialer. According to your company demands and tastes, you may customise the dialer's style, logo, and utilities. This is a necessary feature because you know what your user has chosen. Advanced customization is also available, allowing you to make precise modifications to the dialer to give a more user-friendly experience for your consumers.
Financial Gain
A branded mobile dialer software may put a dent in your wallet at first, but it might help you generate more money in the long run. You progressively acquire more prospective end-users as you operate the firm under your own brand name, services, and dialer specs. Getting your own branded dialer is thus an excellent investment for future financial success.
Wrapping Up
The telecom sector has been witnessing the slow demise of the traditional landline phone system, and major businesses' adoption of VoIP phones is ever-increasing. With the internet now within everyone's reach increasingly and smartphones becoming more feature-rich while being cost-effective will increase the demand for VoIP-based communication solutions. Vindaloo Softtech is a renowned name in the VoIP software development realm and can create custom VoIP – based applications and solutions per your needs. Get in touch with us for your next project.