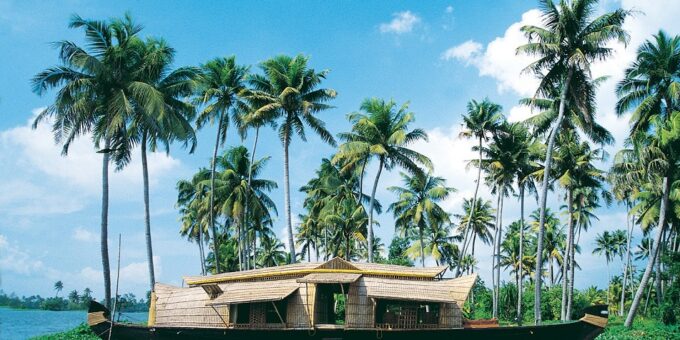 Kerala is well known for its charming and breathtaking backwaters which are dotted in every nook and corner of the state. There are ample of backwater destinations that are located in the lap of nature. Some of popular the backwaters in Kerala destinations are at Trivandrum, Cochin, Alleppey, Kumarakom and many more. The state offers you a finest opportunity to explore pristine beauty of such wonderful spots. Here, we will give some other endless allures of backwater places which will entice you a lot.
Kerala or God's Own Country is gifted with a large number of tourist hot spots that are located in various cities of this region. Here, you will be able to search lots of attractions like backwaters, hill stations, sea beaches, temples, houseboats, forts, churches, museums, heritage buildings, art galleries and, wildlife sanctuaries, parks, lakes, gardens, pretty landscapes so on. All such charms are renowned for their magnificence and brilliance. Furthermore, you can look for these allures in different cities of this state namely Kollam, Kottayam, Cochin, Trivandrum, Alleppey, Munnar, Varkala and lots more. During your journey, you do not miss all such interesting charms of this vibrant state. Now, we will talk about few exotic backwater spots in the state like:
Kumarakom Backwaters – Kumarakom is situated in Kerala. It is about 16 km from Kottayam. The destination is famous for its bird sanctuary. Kumarakom Backwaters are blessed with so many charms like blue green water, coconut palm trees, aquatic life, beautiful birds, sprawling lagoons and so on. With the help of well decorated houseboats, anyone can explore the amazing allures of this site.
Kollam Backwaters – Kollam (previously known as Quilon) is the starting point of backwater waterways. The Ashtamudi Lake is known as the gateway to the backwaters. This lake has covered around 30% area of Kollam. The marvelous Kollam Backwaters are renowned among all the visitors around the globe. Here, you can look for a large number of allures like widely spread lotus & lilies, fringed coconut palm trees, marine life, chirruping birds and sprawling greenery. All such tremendous lures could be explored through well adorned backwater cruises.
Alappuzha Backwaters – Alappuzha (Alleppey) attracts a huge number of tourists round the year. Alleppey is also popular as "Venice of the East". Alappuzha backwaters are prominent among all the newly wedded and honeymooners. Here, you can discover an ample of attractions like water birds, awesome lagoons, blooming flowers, tweeting birds in the sky, splendid greenery, leafy trees and lots more. You can explore all such charms with the help of houseboats. Apart from that, here you may also view the charm of snake boat race which is held every year. In this boat race, you would be able to participate with lots of bliss and zest.